December 2019 Level I: Classes in Karachi
Give a boost to your career in finance by entering the CFA program. IFT is one of the world's leading prep providers and is ideally suited to to help you along the CFA journey. 
Classes for the Level I exam will start at IFT on Sunday, 30 June 2019 at 2 PM.  The first class is free.
Classes will be held on the below days from 30 June and continue till late November.
Saturdays 2 – 4 PM
Sundays 2 – 4 PM
Wednesdays 7 – 9 PM
Location: 191 Khayaban e Shaheen, Phase VIII, DHA, Karachi  (click to open address on Google maps or see below for map image)
Cost for the entire course: PKR 60,000
Those who sign up for this course will receive the following material:
IFT video lectures for the entire Level I course
Slides associated with the video lectures (softcopy/pdf format)
IFT Notes (Pdf format and printed Book in 5 volumes)
IFT Question Bank (softcopy/pdf format)
IFT Quiz after each topic
Course Instructor: Sir Rafay Bin Sohail
Rafay is an instructor at IFT and helps prepare candidates for the CFA exams.  He is also a visiting faculty member at IBA where he teaches finance courses.  Prior to IFT and IBA, Rafay has worked at Coke and at the State Bank of Pakistan.  Rafay has completed his bachelor's and master's degrees from IBA. He has also cleared all three levels of the CFA exam.
IFT location map (click to enlarge)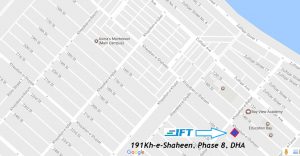 Note: Access to IFT products and services expires on exam day.
Registration instructions To register you need to make the required payment/deposit into our bank account:
Bank: Bank Islami,  Nishat Branch,  Karachi
Account Title: IFT
Account No: 116400027120202
 (above account number includes the branch code)
After making the deposit please email us the following details:
1) Name of branch where you made the payment
2) Deposit slip number
3) Time/date of deposit
4) Your full name
5) Your Contact number
6) The Level, Year and Package type you have paid for
Email information to wakil.ift@gmail.com
If you have any questions or any issues, you may contact us for assistance. Please mention 'Karachi classes' in your message.
Contact No: +92-301-811-9659
Email: wakil.ift@gmail.com