2021 CFA Program Level I Exam – Overview and Major Changes
By Arif Irfanullah, CFA
---
Posted on 08-10-20 at 5:25 pm
---
Changes for 2021 Level I CFA Program Exam
In this blog, we provide you a brief overview of the Level I exam and will also go over the major changes that will come into effect from the February 2021 exam. The biggest change is that from 2021 all testing will be computer-based and not paper-based. December 2020 will be the last paper-based exam.
Key changes in exam format, topics, and topic-wise weights
Here are some key points related to changes in exam format, topics, and topic-wise weights.
We will now have two 135 minutes sessions i.e. 2.25 hours per session.
In each session, we will have 90 multiple choice questions which means a total of 180 questions instead of 240.
The average time per question will be 1.5 minutes per question like before.
There will be an optional break of 30 minutes between the two sessions.
Further, there are two changes in the topic weights. One change is that now the weights are given in a range. This implies that CFA Institute is not committing to any particular number of questions. The second change is the change in weights of topics. For example, the weight of ethics used to be 15% but now it lies in the range of 15 – 20% which implies that there could be more ethics questions than before. This highlights the fact that ethics is extremely important as also reflected by the fact that ethics has the highest weight among all the topics. So you shouldn't take ethics lightly and you need to study it very carefully.
| | |
| --- | --- |
| Topic | Weight (%) |
| Ethics | 15 – 20 |
| Quantitative Methods | 8 – 12 |
| Economics | 8 – 12 |
| Financial Reporting and Analysis | 13 – 17 |
| Corporate Finance | 8 – 12 |
| Equity | 10 – 12 |
| Fixed Income | 10 – 12 |
| Derivatives | 5 – 8 |
| Alternative Investments | 5 – 8 |
| Portfolio Management | 5 – 8 |
A comparison between paper-based and computer-based exam is given below:
Paper-based exam
Computer-based exam
Scheduling
One exam day/time  offered
·       Self-schedule your exam within the exam window (up to a 10-day period)

·       Now the candidates will have an option to schedule their CFA® exams on any day within the ten days predetermined exam window. The candidate can choose a date and location/center of their choice.

Locations
Proctored exam in 192 locations globally
·       Proctored exam in 400+ locations globally, to include all locations currently offered in June.

·       Like before, the exams will still take place in examination centers.

·       However, the length of exams, and the dates and locations they can be taken, will change.

Exam length
Two 3-hour sessions with breaks in between
·       Two 2.25-hour sessions for L1.

·       135 minutes for sessions 1.

·       135 minutes for session 2.

·       Total testing time is 4.5 hours.

·       Optional break in between the sessions;

·       There is going to be a 30 minutes period before the start of the exam which is allocated to pledge, tutorial, and survey.

Hence, the Total appointment time for the exam will be 5.5 hours.
Exam cycle
| | |
| --- | --- |
| Exam date | When to start studying |
| February | September |
| May | December |
| August | March |
| November | June |
As depicted in the table above, you can opt for the Level I CFA® exam in four months – February, May, August, and November.
When to start studying depends on how much you already know and how quickly you can learn/grasp the concept and the amount of time you have every day for the study. You can refer to IFT study strategy videos for more details regarding the study strategy.
Paths to Receive the Charter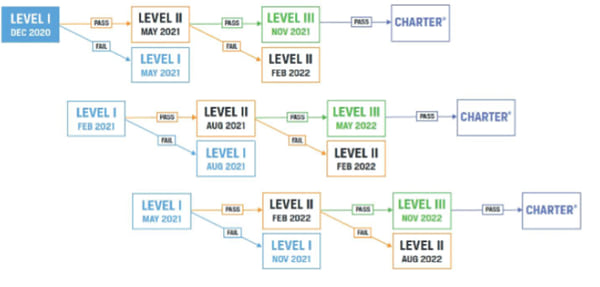 If you take the Level 1 exam in Feb 2021, then the earliest you can take the Level 2 exam is in August 2021. There is a Level 2 exam in May 2021 but you are not allowed to take that because the time period between Feb and May is too short. Similarly, if you pass the August 2021 Level 2 exam then the earliest you can take the Level 3 exam is in May 2022 although there is a Level 3 exam in Nov 2021. And then if you pass the Level 3 exam, you need to complete 4 years of relevant work experience in order to earn the CFA ® Charter. This is the best-case scenario.
However, if you are not able to pass the L1 exam, you cannot re-take it in the next session. For example, if you take the exam in Feb 2021 but do not pass then you can re-take it in August 2021 or November 2021 but not May 2021 exam. This means that Candidates that do not pass Level I will still have to wait a minimum of six months to retake the exam. Therefore, a maximum of two exams a year is possible – even if there are now four dates. This is consistent with the time that current candidates must wait to retake the exam.
What study material you will get from CFA Institute
When you sign up for the L1 exam, you will get the following study material:
CFA Program Curriculum for L1 – remember that you will be tested on the material covered in this curriculum. Most students find the Level 1 curriculum very lengthy and which is why they use study material from prep providers like IFT.
Interactive study planner
Topic tests – these are the questions associated with each topic. We highly recommend that you practice these questions once you are done with each topic.
Mock exams – you will get access to the CFAI mock exams generally 2-3 months before the exam. We strongly recommend doing these mock exams as these mock exams will help you in preparing for the actual exam.
How Will the Changes Affect Preparation and Curriculum?
The changes discussed above will neither reduce the volume of information in the curriculum nor will they reduce the level of difficulty of the exam. Hence, we recommend that you prepare for the exam with great dedication and commitment. IFT provides a number of comprehensive prep materials including video lectures, notes, practice questions, mock exams, etc for the candidates. There is a separate video in which we have discussed different IFT materials designed to help the students pass the exam.
Last, but not least, always remember that the key to success is PRACTICE, PRACTICE, AND PRACTICE.
Good luck!
---