2021 CFA Program Level II Exam – Overview and Major Changes
By Arif Irfanullah, CFA
---
Posted on 08-10-20 at 12:37 pm
---
CFA Institute has made many changes in the past few months to the upcoming exam schedule and exam format. As you may know, the June 2020 exam was canceled due to the pandemic and shifted to December 2020 (for locations where there is no test center closure). In this blog, we discuss the key things you need to know about the 2021 exam format and exam schedule.
Shift to Computer-Based Testing
The biggest change in the 2021 exams is a shift from paper-based to computer-based testing. The CFA Program® exams will still be held in proctored exam centers, but rather than sitting for the exam on one day of the year, candidates will be able to choose their exam date out of a window of up to 10 days.
Overview of the Exam Format
CFA Institute has not yet confirmed the Level II exam length and number of questions, though they have stated that the exam will be approximately 4.5 hours long, with two 135-minute (2.25 hours) long sessions. The number of questions will be lower than in previous years, but the average of 3 minutes per question will remain the same.
Unlike in Level I, the Level II exam is comprised of item sets, or "mini-cases". Each item set has a vignette (or case statement) of varying length and either four or six questions related to it. While questions in an item set can be solved independently of each other, they are all based on information provided in the vignette.
The Level II exam covers ten topics. The topic weights for the 2021 Level II exams are shown below:
| | |
| --- | --- |
| Topic | Weights (%) |
| Ethics | 10 – 15 |
| Quantitative Methods | 5 – 10 |
| Economics | 5 – 10 |
| Financial Reporting and Analysis | 10 – 15 |
| Corporate Finance | 5 – 10 |
| Equity Investments | 10 – 15 |
| Fixed Income Investments | 10 – 15 |
| Derivative Investments | 5 – 10 |
| Alternative Investments | 5 – 10 |
| Portfolio Management | 10 – 15 |
Exam Comparison: Paper-Based vs. Computer-Based
| | | |
| --- | --- | --- |
| | Paper-based exams | Computer-based exams |
| Scheduling | One exam day/time offered | Self-schedule your exam within the exam window (up to a 10-day period) |
| Locations | Proctored exam in 192 locations globally | Proctored exam in 400+ locations globally, to include all locations currently offered in June. |
| Exam length | Two 3-hour sessions with break in between | Two approximately 2.25-hour sessions. Optional break in between sessions. |
https://www.cfainstitute.org/en/programs/cfa/exam/computer-based-exams
Scheduling: A significant change from the paper-based to computer-based exam is that rather than having to sit for the exam on a specified day of the year, candidates can choose their exam date from a window of up to 10 days (the length of the window varies depending on location).
Exam length: CFA Institute has also shortened the exam to approximately 4.5 hours, consisting of two 135-minute sessions. There may be an optional half-hour break between sessions (CFA Institute will confirm details soon). If this is the case, we highly recommend taking the break and using that time to freshen up and have something to eat or drink.
Exam Dates and When to Start Studying
The Level II exam will be offered twice in 2021, in May and August.
The best time for you to start preparing for your exam depends on many factors, such as how much of the material you already know, how much time you have, if you are taking the exam for the first time, your academic and professional background, etc. Naturally, the sooner you start studying, the better. That being said, for an average candidate, a good time to start would be six months before the exam.
| | |
| --- | --- |
| Exam Date | When to Start Studying |
| May 2021 | November 2020 |
| August 2021 | February 2020 |
Paths to Receive the Charter
The following diagram shows potential paths to the charter for those taking the Level II exam in May or August 2021.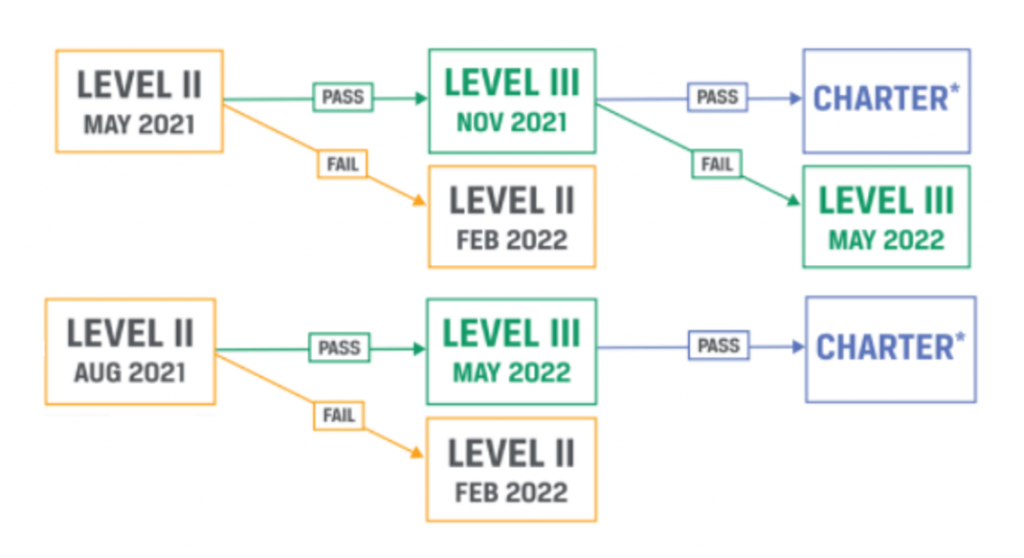 https://www.cfainstitute.org/en/programs/cfa/exam/exam-cycle-options
While CFA Institute has increased the number of Level II and Level III exams to twice a year, a candidate must wait at least 6 months before sitting for their next exam. This means that if a candidate passes the August 2021 Level II exam, they cannot sit for the November 2022 Level III exam, but rather wait until May 2022. Similarly, if a candidate fails the May 2021 Level II exam, they cannot register for the August 2021 exam; they can next sit for the exam in February 2022.
What you get from CFA Institute
CFA curriculum provides candidates with the following resources on their Learning Ecosystem:
Curriculum

This is very detailed and comprehensive, which is why some students use prep providers such as IFT to cover the necessary material in time.

Interactive Planner

This allows you to monitor your performance and understand your strengths and weaknesses. You can access this on the Learning Ecosystem and use it if you find it helpful.

Topic tests

These are hundreds of practice questions that are divided by topic. It is strongly recommended that you do these questions after you finish a topic.

Mock exams

These will be available roughly two months before your exam. Make it a point to attempt these before you sit for your exam.
Check out our other videos to see how IFT products can help you with your exam preparation (click here).
But keep in mind that the key to success is practice, practice, practice. Best of luck!
---