2022 Level III CFA Program Changes
---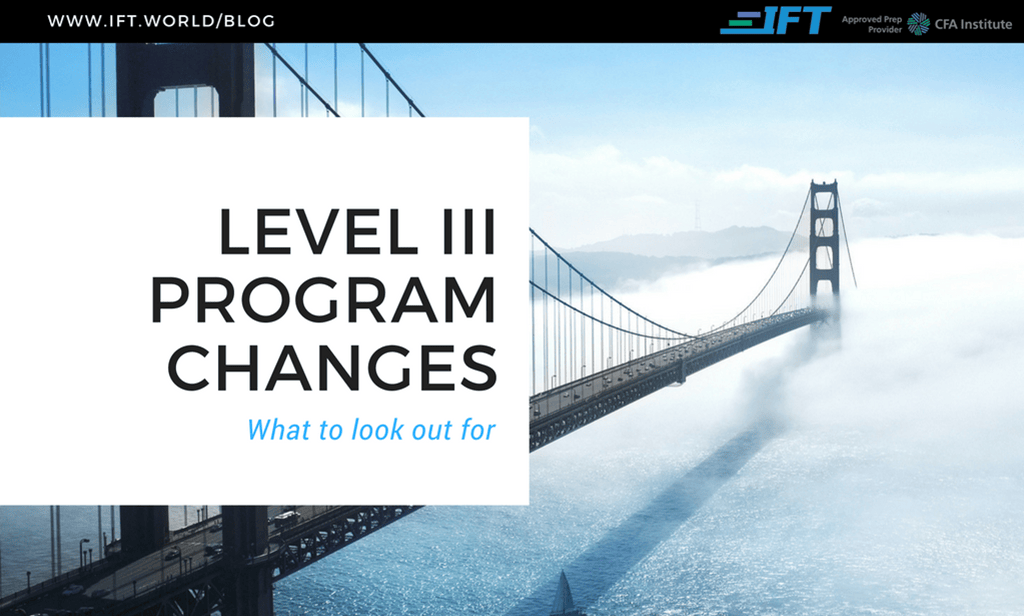 ---
Each year CFA Institute makes changes to the exam curriculum. This year there are some major revisions and some minor revisions to the LIII curriculum.
There are 35 readings in the 2022 Level III curriculum versus 38 in 2021.
2 readings from 2021 are dropped:

R04 Professionalism in the Investment Industry
R07 The Behavioral Finance Perspective

1 new reading is added:

R30 Integrated Cases in Risk Management: Institutional

8 readings are updated.

Ethics & GIPS are moved to the end.
Overview of Fixed-Income Portfolio Management → Minor Changes
Liability-Driven and Index-Based Strategies → Minor Changes
Yield Curve Strategies → Major Changes
Fixed-Income Active Management: Credit Strategies → Major Changes
Topics in Private Wealth Management → Major Changes
Case Study in Portfolio Management: Institutional → Minor Changes
Application of the Code and Standards: Level III → Minor Changes
 Overview of the Global Investment Performance Standards → Major Changes
For details on what has been added, removed, or changed for Level III, please see the chart here:
Level III 2021-2022 Program Changes

IFT Level III Exam Prep Packages are available now, start your studies now with 2022 IFT videos and notes!
Updated and Priced to Go!
If you have any comments or questions, please visit the IFT Help Desk.
Best Regards,
Team IFT
---