2023 Level III CFA Program Changes
---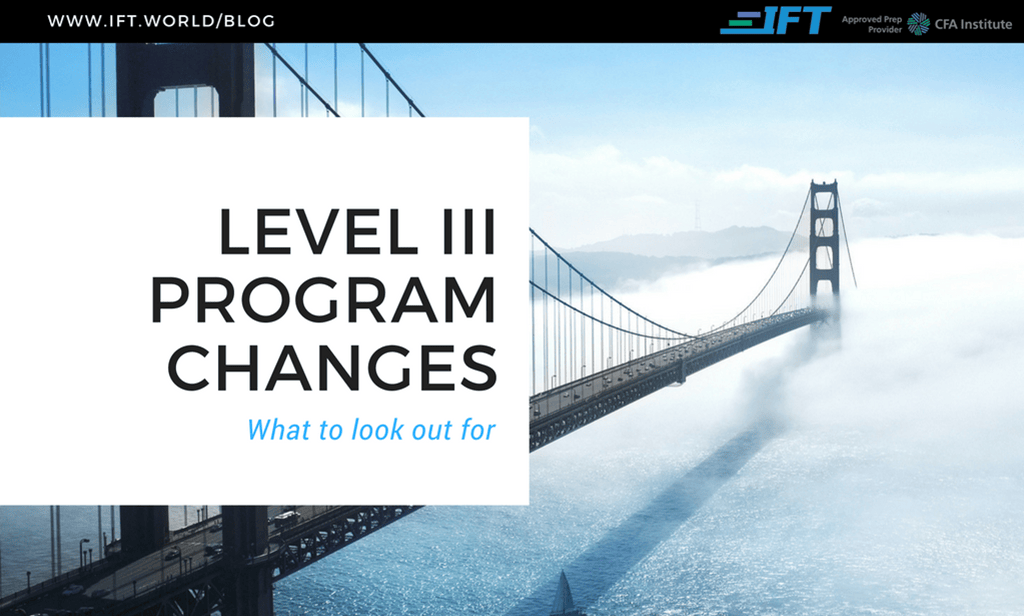 ---
CFA Institute periodically updates its curriculum for the CFA Exam. The regular updates are meant to stay up to date with the innovations and challenges of the investment management industry.
However, for the 2023 exam year, there are no changes from the Level III 2022 curriculum. This may partly be due to the many changes we saw in 2022. To see the changes introduced in 2022 click here.
This is good news for those candidates who may need to re-take the Level III exam in 2023!
IFT Level III Exam Prep Packages are available now, start your studies now with 2023 IFT videos and notes! 
The below table shows the Curriculum Changes made in 2022 and are still valid for 2023
Topics
Change for 2022 valid for 2023
Ethical and Professional Standards
Topic moved to the end of the curriculum.

R33 Application of the Code and Standards: Level III was updated with a new case
R35 Overview of the Global Investment Performance Standards updated with significant changes

Behavioral Finance

R7 The Behavioral Finance Perspective was dropped from the curriculum

Fixed Income

All readings have been updated.
R13 Yield Curve Strategies and R14 Fixed-Income Active Management: Credit Strategies have significant revisions

Private Wealth Management

R22 Topics in Private Wealth Management is a new reading added to the curriculum
R29 Taxes and Private Wealth Management in a Global Context, R30 Estate Planning in a Global Context & R31 Concentrated Single Asset Positions are dropped from the curriculum

Portfolio Management and Risk Management

R28 Case Study in Portfolio Management: Institutional is updated
R30 Integrated Cases in Risk Management: Institutional is added as a new (case study) reading
Refer to the CFA website for more details: 2023 Level III Curriculum Overview
If you have any comments or questions, please visit the IFT Help Desk.
Best Regards,
Team IFT
---